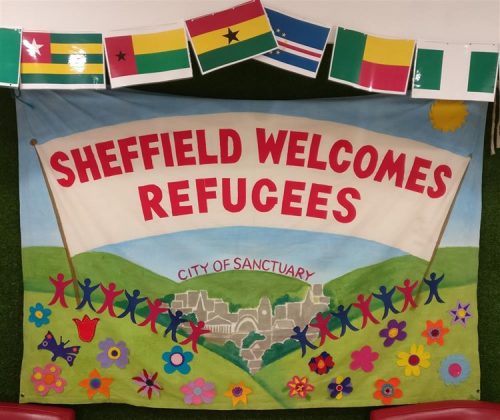 Sheffield City Council has reaffirmed that Sheffield is a City of Sanctuary and will appoint a Migrant Champion to stand up for the rights of migrants in Sheffield.
The decision was made at the full meeting of Sheffield City Council on Wednesday 5th July, on a motion brought by Cllr Alexi Dimond and seconded by Cllr Maleiki Haybe. It also creates a new role for an elected councillor to become the Council's "Migrant Champion," who will be a point of contact for migrants, community groups and organisations to raise concerns and will work to ensure council services are open and available to migrants who need them. You can see their speeches here.
Speaking after the meeting, Cllr Dimond said,
I'm delighted that Sheffield Council voted unanimously to reaffirm Sheffield as a City of Sanctuary. We sent a clear message to the government that we stand in solidarity with people seeking sanctuary, that we reject the anti-refugee laws, and that we support the right to work for asylum seekers. We voted to have an elected member who will be a Migrant Champion and ensure that we remain a welcoming city, the UK's first City of Sanctuary."
The debate came after another one on the cost-of-living crisis, where Cllr Douglas Johnson said,
"We need to recognise that not everyone comes to the cost-of-living crisis equally. There are many people in entrenched poverty in the city, whether they have migrated to Sheffield or were born here. But being a migrant or having English as a second language is an additional barrier."
However, the meeting was not without controversy. Campaigners had originally hoped the motion would be cross-party but this was not taken up by other political groups and had to be proposed solely as a Green Party motion.
Cllr Douglas Johnson commented,
"It was very disappointing that campaigners had to wait for nearly 3 hours because Labour and LibDem councillors voted against holding the debate when the public gallery was full. It was also sad to see Labour and LibDems vote together and delete the record of the local organisations that have signed the pledge to fight the anti-refugee laws.
"Some of these groups helped to develop what we all hoped would be a cross-party motion. Removing their names was a further snub to the work of City of Sanctuary Sheffield, ASSIST Sheffield, Development and Empowerment of Womens Advancement (DEWA), South Yorkshire Migration and Asylum Action Group (SYMAAG) and Sheffield Association for the Voluntary Teaching of English (SAVTE)"
For more information, please contact Douglas Johnson  at douglas.johnson@councillor.sheffield.gov.uk
NOTES TO EDITORS
The Migrant Champion is an unpaid role.
14% of people living in Sheffield were born outside the UK.
The text of the motion is on the Council agenda at https://democracy.sheffield.gov.uk/ieListDocuments.aspx?CId=154&MId=8830
More detail on the motion is at: https://sheffieldgreenparty.org.uk/2023/06/28/greens-call-on-council-to-recommit-to-its-support-for-migrants/