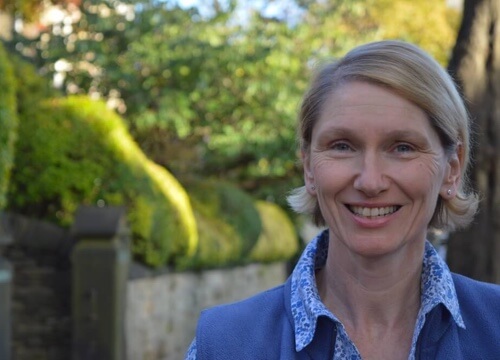 Sheffield Greens were delighted last Friday 27th October when a High Court Judge, Mr Justice Stephen Males, threw out a legal case brought against Cllr Alison Teal by Sheffield City Council. The Labour Council accused the Green representative of Nether Edge and Sharrow of breaching an injunction against peaceful tree felling protests in the city.
Cllr Teal denied breaking the terms of the injunction, and her innocence was confirmed by the Court without Alison even having to take to the witness stand. She is now calling for the Council to be held accountable for their expensive, politically motivated, and needless legal action against her and other Sheffield residents opposed to their tree felling programme.
Speaking after the case, Cllr Teal said,
"I am of course delighted to be exonerated by the Judge, who was clear that I had not breached the terms of the injunction that he granted earlier this year.
"But the case should never have been brought about. I have been and continue to be completely compliant with the terms of the injunction, and this was reflected in the quite frankly embarrassing and pathetic failed attempts by the Council's 10 lawyers and two barristers to argue that I had. Further, I and the whole tree campaign have been consistently calling for dialogue and discussion with the Council, but they continue to be uninterested in talking to us.
"Instead, the Labour administration prefer to waste enormous sums of money, time, and effort pursuing legal action and bullying tactics against those who oppose them, rather than sit down and talk to try and find a way forwards.
"Sheffield City Council has spent a huge amount of taxpayers' money attempting to convince the judge that I broke the injunction, assembling an enormous legal team with the aim of imprisoning me for something I did not do. I regret that they chose to take that needless, aggressive, and wasteful choice of action."
Fellow Green Councillor Douglas Johnson, who supported Cllr Teal's legal team, also commented,
"We have seen no other cases where a local authority has sought an injunction and tried to imprison one of its own elected Councillors over a political dispute, which the court agreed was peaceful protest throughout. This action comes on top of the Labour Councillors voting Alison out of a full Council meeting, and complaints pursued against Alison by senior council officers."
"The court also heard how the Council had changed the words of the formal court order from what the judge actually ordered to what one officer described as 'the spirit of the judgement.' This attempt to mislead campaigners is dishonest and quite frankly disgraceful."