Green Councillors challenge cuts to Street Cleaning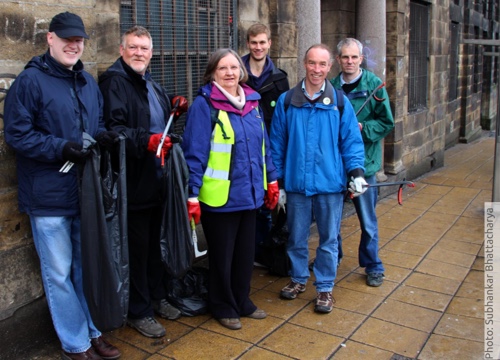 More litter likely
Sheffield's Labour council is cutting back on litter clearance and removing 80% of roadside shrubbery in a bid to save money on its £2 billion Highways PFI contract. The plans will mean dirtier streets and less pollution absorbed by plants, and were opposed by local Green councillors.
Cllr Rob Murphy said, "Clearing litter is a core council service, but due to the eye-watering cost ofthe PFI (£79 million next year), we will be paying more money for a worse service. Sheffield Greens opposed the PFI from the start, as a bad deal for taxpayers."
Bin problems
We helped residents get bins emptied properly at Cromford St in Highfield and at Kelham Mills.
Bins at the popular Nursery St pocket park will now be emptied more often next summer, after Green councillors took up residents' complaints.
Safer City Streets
20 mph limit at last
After a long campaign by Green councillors, the Council has agreed to a 20 mph speed limit for most of the city centre and Kelham Island, off main roads.
Cllr Douglas Johnson said, "Experience in other areas shows a lower speed limit reduces the number and severity of road accidents. We are glad the Council has finally listened and look forward to safer streets."
However, Sheffield Council is working on plans to widen the Inner Ring Road near Kelham Island. Residents say traffic, noise and pollution will increase and the plans neglect pedestrians and cyclists.
Green campaigner Martin Phipps said, "The last ring road scheme was massively over budget. Widening roads is not the answer when trams are to run less often from January because of increased road traffic. The Council has to learn and not make the same mistakes twice."
Saved from prison!
Douglas Johnson helped fellow Councillor, Alison Teal, in a High Court case when the Labour Administration tried to imprison her for alleged breach of an injunction. The judge said the Council was "mistaken."
Green Action in City Ward
City centre
Green Councillors are still pushing for a policy on off-licences around West St. The aim is to reduce street-drinking and associated anti-social behaviour and crime. We have also promoted a generous offer from Killi's Cleaners on West St to help businesses remove graffiti.
Bus stops
After a Green petition signed by many local residents and councillor lobbying, the missing bus stop on Charlotte Road has been returned.
Two new bus stops are planned for Mowbray St in Kelham Island. Green Councillors asked for a replacement near Brewery Wharf after a previous one had been removed.
City development
Greens have commented on a redesign of Fitzalan Square. City centre campaigner John Wraysaid, "Anti-social behaviour has been a problem but we want to keep the trees and the setting of the Old Post Office." Greens have also called for a review of the number of new-built blocks of flats.
City Centre Health Service closures
Green councillors have objected to plans to close the Walk-in Centre on Broad Lane and the Minor Injuries Unit at the Hallamshire Hospital. Cllr Douglas Johnson said, "TheseservicesareheavilyusedbyresidentsofCityWard."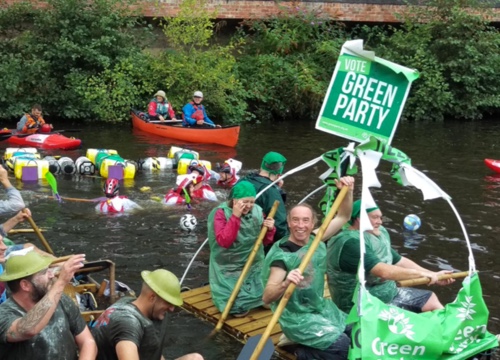 Preventing floods
Trees at Kelham Mills have been pruned back after Cllr Douglas Johnson negotiated with landlords over duties to maintain the riverside.
As well as helping residents with light and TV signals, cutting back willow trees is important to help prevent flooding.
Green Spending
Your Councillors have used money from City Ward funds to pay for:
Artwork on telephone cabinets to help tackle graffiti in Kelham Island
A river clean-up
Litter-picking
Health walks
Christmas events
Basketball sessions at Duchess Road
Planters at St Matthew's Church
Canal trips on the "Ethel" community barge to reduce isolation for older people
A fence to stop cars churning up grass at the Charlotte Road car park
Support for Shoreham St Tenants and Residents Association and Kelham Island Community Alliance
Water and Air
We are looking at funding free air pollution monitoring kits. We also hope to offer free water butts, which can help prevent flooding. Please let us know if you are a resident of City Ward and would like either of these.
Local Charities
The Help Us Help campaign, which is to support homeless and vulnerable people in Sheffield, benefited from funding from Green councillors. Stories of how you can donate your money in the best way to help people off the street can be found at www.helpushelp.uk
Contact City Ward Greens
Cllr Rob Murphy
robert.murphy@sheffield.gov.uk, 07875 015354
@RobMurphy2012
Cllr Douglas Johnson
douglas.johnson@sheffield.gov.uk, 07500 766189
@DouglasJSheff