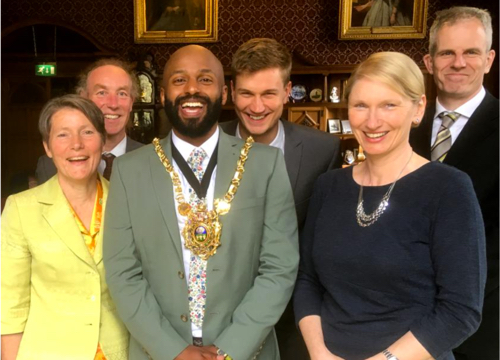 Magid is first Green Lord Mayor
Green Party Councillor Magid Magid this year became Lord Mayor of Sheffield. He is also the city's youngest ever Lord Mayor.
Magid was elected in 2016 to represent the neighbouring ward of Broomhill and Sharrow Vale.
Magid is working to promote local charities Flourish, Unity Gym Project and Sheffield Women's Counselling and Therapy Service. He has taken his charm and charisma and opened the eyes of many young people to the world of (Green) politics.
This year, the Green Group gained two more seats from the Labour Party, including here in City Ward where another young councillor, Martin Phipps, was elected.
This takes the Green group up to six councillors.
Greens for cleaner streets
Your local Green Councillors have taken to the streets after complaints about bins and litter in Edmund Rd in Highfield.
They cleared bins from the street and knocked on residents' doors to explain the new collections.
Cllr Rob Murphy commented
"After Council cuts to litter collections, it is important all residents help to keep our streets clean."
"Please remember to take your bins in after collection days. To report excessive litter, flytipping or to get an assisted collection or a larger bin, call 0114 273 4567."
Walk-in Success!
Campaign action from Sheffield Greens helped save the Walk-In Centre on Broad Lane and Minor Injuries Unit at the Hallamshire Hospital.
Cllr Martin Phipps was part of the Health Scrutiny Committee in the council that gave a formal response to the consultation. He said,
"These two services are really important to Sheffield, especially for people living in City ward, and it would've been a massive blow to lose them."
More about the Lord Mayor's Charities
Sheffield Flourish is a mental health charity rooted in Sheffield and owned by the community.
www.sheffieldflourish.co.uk
Sheffield Women's Counselling and Therapy Service offers free counselling to women in Sheffield who have experienced trauma or abuse.
www.swcts.org.uk
Unity Gym on Wellington St in City Ward helps young people from Broomhall make positive life choices.
www.unitygym.org.uk
How to donate to these charities
Barclays Bank
Pinstone Street
S1 1UJ
Sort code 20-76-92
Account number 6367291 3
Green Action in City Ward
We've helped out with litter picks
We help residents with Planning and Licensing apps. They need sleep too!
We've pushed for a revamp of Duchess Rd playground in Highfield
We've supported anti-fracking campaigns. Keep it in the ground!
We helped out on the KICA stall at Ball St market in Kelham Island
We call for a better way to run the council – sign the petition bit.ly/SheffieldPP
We go out to talk to people, so they know how we can help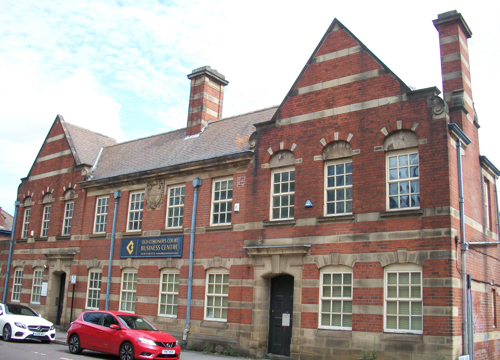 Old Coroner's Court saved from demolition
The Old Coroner's Court on Nursery St faced demolition this summer. Opened in 1 91 3, it was a modern facility for its time but now provides a pleasant backdrop to the riverside pocket park. As it is not a listed building, the developer did not need planning permission.
Cllr Douglas Johnson explained,
"I spotted the demolition was planned and raised it with heritage experts and planning officers. I then had a couple of conversations with the developer and he agreed he did not need to lose an important part of Sheffield's heritage."
Green councillors have called for more safeguards for Castlegate's heritage.
Useful numbers
Your green councillors
Cllr Rob Murphy
07875 01 5354
@RobMurphy2012
robert.murphy@sheffield.gov.uk
Cllr Douglas Johnson
07500 766 189
@DouglasJSheff
douglas.johnson@sheffield.gov.uk
Cllr Martin Phipps
07581 364 252
@MartinPhipps13
martin.phipps@councillor.sheffield.gov.uk
Council and local services
Roads, pavements, streetlights, bins, gritting and fly-tipping,
0114 273 4567 or streetsahead@sheffield.gov.uk
For crime and anti-social behaviour
Emergency – 999; non-urgent – 101
www.southyorks.police.uk
Concerned about help for someone sleeping rough?
0800 066 5358 or at www.streetlink.org.uk
Or 0800 731 1 689 (evenings and weekends)
Residents' groups
Shoreham TARA

Meets 1 st Monday of the month, 6.30 at Duchess Rd community centre
Sheffield City Centre Residents Action Group
Meets 2nd Tuesday at Mappin St www.sccrag.org
Kelham Island Community Alliance

www.kica.uk.com
Blog
Find out more about what's going on in City Ward on our blog.