Sheffield Green Party councillors have "called in" a council decision to widen the Inner Ring Road so that the impact on air quality, health, cycling and walking can be considered.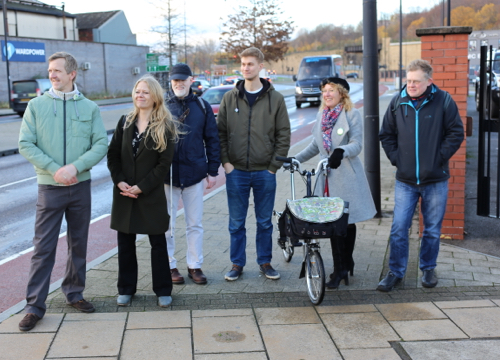 The Lib Dem transport spokesperson, Cllr Ian Auckland, has also supported the challenge. This means the issue is now set to be examined at a Scrutiny Committee, which is open to the public.
The decision is to spend £4.6 million widening the inner ring road from Shalesmoor to the Wicker, from two lanes to three, even though the council admits it is not a long-term solution.
Cllr Martin Phipps, who led the call-in explained,
"I have called for this decision to be scrutinised further on how these plans will impact on air quality in the area and people's health, local residents and also those in their cars. We need to put health firmly at the centre of all our decisions."
Cllr Phipps expressed his disappointment with the council's approach, saying,
"This is typical of a council whose first approach to transport is cars.
"This is claimed to be necessary to accommodate new jobs in the city centre, but if the council was serious about its commitment to improve air quality, its alleged commitments to improving public transport and its alleged commitments to improving cycling infrastructure, then that is what it would be looking at. Instead, it's another bid for a road change that will provide a short-lived flow improvement before the traffic rises to meet demand."
Air pollution sensors funded by the Green Party councillors in City Ward have shown that air quality levels are already at the maximum legal limit in nearby residential accommodation. Readings have reached 40µg of NO2 per m3 which is the maximum legal limit.
Green Party activists Ruth Mersereau and James Martin also commented, with Ruth saying,
"This is money to benefit car drivers only and is a huge missed opportunity to improve cycling and pedestrian routes, which would be better for everyone's health.
"As a committed cyclist, I despair at Sheffield's approach of always making the healthiest forms of transport more dangerous and less convenient."
James added,
"Residents in the area already know how disruptive the road is with poor air quality and noise. It is appalling that a plan to Increase traffic levels further is being pursued by the council on the same road as the proposed Clean Air Zone. People who need to use public transport and choose to live near the city centre should not be gassed out by commuter pollution where a good public transport system could serve businesses better."
Cllr Douglas Johnson, of City Ward, said,
"I would have preferred to see a simpler scheme to give more priority to buses crossing the ring road at Bridgehouses where, at present, they can be waiting a long time at traffic lights for cars to pass."
A date for the scrutiny committee hearing is awaited.
Notes
Sheffield Green Party's original comment on the consultation is at: https://sheffieldgreenparty.org.uk/2017/11/29/inner-ring-road-plans-will-worsen-air-pollution/
Further comment is at: https://sheffieldgreenparty.org.uk/2019/01/16/short-term-vision-doesnt-justify-ring-road-widening-scheme/
The reason given for the call-in is to "scrutinise the impacts of air pollution on the city's priorities and the public's health.