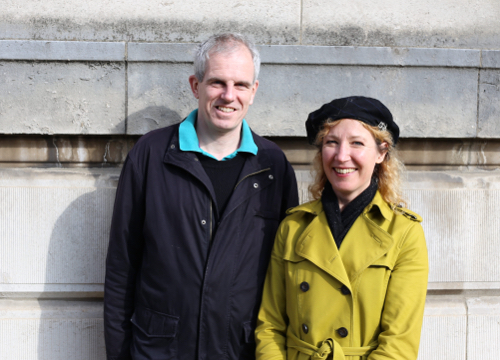 Greens make a difference in City Ward
Elect Ruth Mersereau on 2nd May
Your Green Party councillors have been making lives better in City Ward.
We don't have control of the Council but we are free to speak up on behalf of residents. We listen to what people say and help get responses from the authorities.
All 3 ward councillors are Green. People elect us because we stand up against the Labour council.
Ruth Mersereau will be our candidate in the local elections on 2nd May and she is already proving to be a great addition to the team. She hopes to replace Cllr Rob Murphy, who is standing down after 11 years' hard work.
Greens are often seen at Kelham Island activities and helped get Council approval for the Neighbourhood Planning Forum.
Greens called for a 20mph speed limit because City Ward has the worst road safety statistics. It's now being introduced.
We fought hard to keep the NHS Walk-In Centre open on Broad Lane as it is a popular service and well-used by local residents.
Our campaign for drinking fountains (like this one at the Town Hall) means free refills of water for the public.
Green councillors are in regular touch with front-line workers dealing with rough- sleeping, homelessness, begging & drug abuse.
Greens spoke up for residents against plans to widen the Inner Ring Road near their homes, saying it will worsen air pollution.
We acted on complaints of pavement parking and blocked cycle lanes on the Wicker. We also helped residents with bad landlords.
The first Green Lord Mayor, Councillor Magid, is also the youngest in the city's history.
Greens help residents with rats, rubbish and recycling. We liaise with management companies, Veolia and Pest Control.
Greens have been working with Shoreham TARA to revamp the Duchess Rd Open Space, basketball court and play facilities.
What Sheffield Greens stand for
A council that listens
Listening to local people and helping them get their voices heard
Online broadcasting of council meetings
A healthier, caring city
Keeping the Walk-in Centre and Minor Injuries Unit open
Better mental health services for both adults and children
Safer & cleaner streets
Protecting green space and campaigning against cuts to street cleaning
Jobs in a local economy
Supporting local businesses making a living in the local economy
Protecting heritage by working with local groups and promoting regeneration
Decent homes and neighbourhoods
Investment in good-quality, affordable, rented housing
Balancing the night-time economy with residents' needs; better recycling options
More support for homeless people and local charities that help them
Better transport and air quality
Investment in safer, more attractive routes for cyclists and pedestrians
Real action on air pollution, climate change and public health
Greens win here…
But it's very close between Greens and Labour. Last year, Martin Phipps won by just 1 6 votes
Register to vote by 1 2th April. Request a postal vote by 1 5th April. www.gov.uk/register-to-vote or ring 0114 273 4093.
Useful contacts
Your green councillors
Cllr Rob Murphy
07875 01 5354
@RobMurphy2012
robert.murphy@sheffield.gov.uk
Cllr Douglas Johnson
07500 766 189
@DouglasJSheff
douglas.johnson@sheffield.gov.uk
Cllr Martin Phipps
07581 364 252
@MartinPhipps13
martin.phipps@councillor.sheffield.gov.uk
Ruth Mersereau
01142 397 704
@ruthmersereau
ruth.mersereau@sheffieldgreenparty.org.uk
Council and local services
Roads, pavements, streetlights, bins, gritting and fly-tipping,
0114 273 4567 or streetsahead@sheffield.gov.uk
For crime and anti-social behaviour
Emergency – 999; non-urgent – 101
www.southyorks.police.uk
Concerned about help for someone sleeping rough?
0800 066 5358 or at www.streetlink.org.uk
Or 0800 731 1 689 (evenings and weekends)
Residents' groups
Shoreham TARA

Meets 1 st Monday of the month, 6.30 at Duchess Rd community centre
Sheffield City Centre Residents Action Group
Meets 2nd Tuesday at Mappin St www.sccrag.org
Kelham Island Community Alliance

www.kica.uk.com
Blog
Find out more about what's going on in City Ward on our blog.