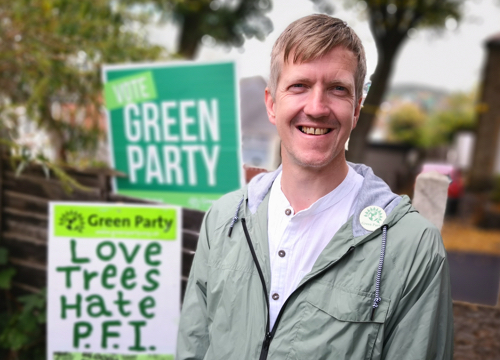 Paul Turpin, councillor for Gleadless Valley, has been selected by Sheffield Green Party to stand for Sheffield Heeley constituency in the next general election.
Paul said,
"I'm thrilled that I've been picked to stand for election to represent the people of Heeley in the event of a General Election.
"I despair at the state of politics in our country. In-fighting and self-interest has driven us into a dead end. With the poor getting poorer, the rich getting richer and a growing number of people feeling like their needs and opinions are being ignored, our electoral system leaves millions of people with wasted votes, it creates mistrust in politicians and keeps the same old types in power.
"Government isn't taking the climate crisis seriously. Politicians from every party jump on the bandwagon to win votes but have little understanding of what it means. The Government should have been acting on climate change twenty years ago when the Green Party was already speaking out about it.
"Rising racism and gender prejudice angers me. People are people no matter who or what they are and have the right to be treated fairly and equally. Growing hate in our society is a worry but I'm invigorated by the growing hope we have too. It is inspiring to see my friend Magid, our Green Party MEP, tackling hatred head on.
"I want to stand for what matters; to be a voice for the people. I will stand up for Green politics; having decisions made as locally as possible, genuinely protecting our environment and fighting for our future."
Paul has lived in the Heeley constituency for 20 years and is married with two young children. After growing up in a single parent family on a Northern council estate, he made Sheffield his home. He joined the Green Party in 2014 after feeling compelled to do something to build a future for his children.
"I looked at what the main parties were offering and a neoliberal, austerity-laden country, with fracking and nuclear weapons, terrified me. I had to do something about it!"
Paul was elected as a City Councillor in Gleadless Valley in 2019. In the short time since then, Paul has made waves in the council and has gained a reputation of a hard working community leader who can hold the administration to account.
Notes
1. Sheffield Greens have already selected Alison Teal to represent them in Sheffield Central constituency and Natalie Thomas for Sheffield Hallam