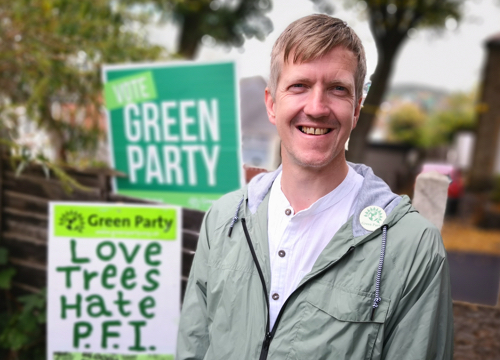 Paul Turpin, Green Party Councillor for the Gleadless Valley ward, has identified Government funding that could improve sustainable transport options through the reopening of old railway stations. He has contacted South Yorkshire Passenger Transport Executive (SYPTE) and Sheffield City Council to urge them to apply for this funding with a view to reopen Heeley Train Station.
South Sheffield is an area not served by the city's tram network and has a reputation for unreliable bus services. Air pollution due to traffic congestion is among the highest in the city at the location of Heeley Train Station.
Paul says, "The Government is releasing £20 million to reopen old railway stations in it's New Station Fund and we want the Council to apply for some of this money for Heeley Station. The people of my ward, and neighbouring wards, would love to see Heeley Station reopen. It is an excellent location for a station and would provide a reliable and quick transport option for people to travel between Sheffield and Manchester.
"The original subway entrances are still there, just the station infrastructure needs putting back in place. People are proud of the built heritage in this area and reopening Heeley station would undoubtedly be celebrated by locals."
Cllr Alison Teal, Green councillor for Nether Edge and Sharrow, said, "Sheffield Green Party has long supported alternative transport solutions, including reopening now valuable rail stations as part of the battle to reduce air pollution and combat the climate crisis. As a councillor, Olivia Blake MP, who is now calling for a local station to be reopened, voted against this when Greens suggested it, in 2017."
Notes