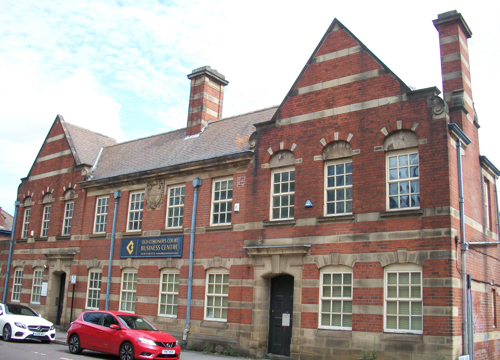 Government Planning Inspector rules that demolition can go ahead.
Sheffield Green Party councillors and activists expressed disappointment at the Government's Planning Inspector over-ruling elected members of the Planning Committee and approving the demolition of the Old Coroner's Court.
The Old Coroner's Court on Nursery St was opened in 1913 as a modern facility for the respectful treatment of the dead and grieving relatives. In later times, it became offices and survived the Sheffield floods of 2007. It now overlooks the flood defence pocket park but has recently stood empty.
In 2018, a property developer proposed to demolish the building shortly after the council abandoned plans to set up the Castlegate Conservation Area. Green councillors were instrumental in persuading a property developer to drop the demolition plans and discuss suitable conversion designs with planning officers. However, the developer pressed ahead with plans for total demolition and rebuilding. The eventual plans submitted to the Planning Committee were described by Cllr Douglas Johnson as "uninspiring" and looking "like a multi-storey car park" and the Planning Committee rejected them in 2019.
A Government Planning Inspector has now over-ruled the committee and given his own judgment that the proposal for a block of flats "contributes favourably towards the character and appearance of the area."
Reacting to the decision, heritage campaigner and Green Party candidate, Brian Holmshaw said,
"I am frustrated by the council's lack of progress on the Castlegate conservation area. The long-awaited plans for the Castlegate conservation area were cancelled out of the blue – and for no real reason anyone could understand – by the Council Cabinet member responsible. The historic Old Coroner's Court building could have been protected and preserved by bringing in this long-planned-for conservation area by the council. I'm now concerned for other heritage aspects of buildings in the proposed conservation area."
Cllr Douglas Johnson, councillor for City Ward, said,
"This is a disappointing outcome. The sensitive re-use of historic buildings retains the irreplaceable, builds on local heritage, and significantly reduces carbon emissions.
"Standard demolition and construction uses huge amounts of energy and releases far too much CO2 through use of concrete and steel. There must be more incentives to refurbish and refit buildings, not to destroy them and build from scratch."
Cllr Peter Garbutt, who was a member of the Planning Committee voting against the proposal, added,
"Planning decisions are entrusted to elected councillors to reflect the views of residents of the city. It makes a mockery of the process to have the elected committee over-ruled by an official just because they have a different view of development in Sheffield."
Read more: Sheffield Star: Developers win appeal to replace Old Coroner's Court in Sheffield with apartments
Notes
Previous comment by Sheffield Greens:
The planning application reference 19/02258/FUL can be viewed at: https://planningapps.sheffield.gov.uk/online-
applications/applicationDetails.do?keyVal=PTCN4VNYIO500&activeTab=summary