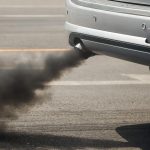 Green councillors are demanding a firm commitment to action on air pollution.
The call comes as Labour councillors are threatening further delay to the millions in grants ready for taxi drivers and local businesses to help improve the poor air quality across Sheffield.
Cllr Christine Gilligan Kubo, deputy chair of the Transport, Regeneration and Climate Change Committee, said,
"Air pollution is the biggest environmental threat to health in the UK, with between 28,000 and 36,000 deaths a year attributed to long-term exposure – that's 500 early deaths a year just in Sheffield, through coronary heart disease, strokes, respiratory disease, lung cancer and asthma.
"The Green Party has long campaigned to improve air quality in Sheffield. We are fully behind the implementation of Clean Air Zones. Thanks to long-running national campaigns on air pollution, these are now a legal requirement in cities like Sheffield, to improve the quality of life for residents in the shortest possible time.
"Removing polluting vehicles from the inner ring road will have a positive impact on the health of residents across the whole city. It will also save the hard-pressed and under-funded NHS from treating people with chronic respiratory conditions.
"Millions of pounds in grant funding have sat in the council's bank account due to prevarication. We want this money to be allocated without further delay to taxi and van drivers so that we are meeting our legal commitments on air quality and getting important cash to local businesses."
Cllr Douglas Johnson added,
"As the former Executive Member responsible for promoting the Clean Air Zone, I was very pleased when the Labour–Green Executive approved the CAZ in October 2021 and accepted £24 million of government money to offer grants to upgrade taxis, buses and vans to cleaner vehicles. It is disappointing that these grants to small businesses are now being delayed again after sitting in the council's bank account since 2020."
NOTES

1. The council's executive approved the Clean Air Plan on 26 October 2021 
2. Sheffield City Councill approved a Class C Clean Air Zone. This does not involve charging private cars. Sheffield Green Party secures Clean Air Zone – 15/11/21 
3. Green Party response to Clean Air Zone Consultation 26th August 2019 Sheffield Green Party response to the Clean Air Zone consultation | Sheffield Green Party
4. Inner Ring Road plans will worsen air pollution 29th November 2017 Inner Ring Road plans will worsen air pollution | Sheffield Green Party