Brown bins chaos & clutter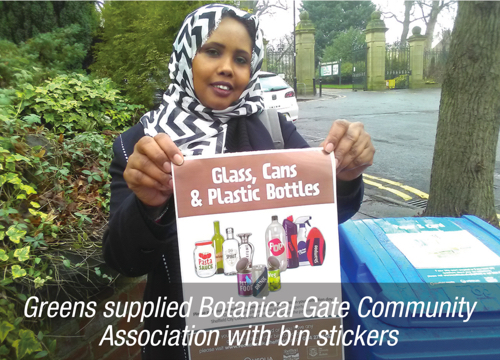 Greens have been sorting out foreseeable roll out issues. Cllr Rivers says: "The University of Sheffield had a key role in supplying explanatory stickers and bin numbers for community group use – we stickered hundreds of student house bins. But October roll outs created inevitable confusion, triggering my request for Veolia to urgently "decontaminate" bins in student high density areas and remove blue boxes. Extra bins won't improve Sheffield's poor recycling rate but add to pavement access issues around Hunters Bar, Crookesmoor and many other areas." Read Cllr Rivers' recycling issues letter.
Clarkehouse Rd safe cycling
Parking will soon be removed between Glossop Rd and Brocco Bank with double yellow lines creating safer cycle lanes. Coach spaces outside The Botanical Gardens and King Edwards Swimming Pool will respond to their needs. Angela Argenzio comments: "We support the changes – cars blocking cycle lanes create real danger. The council must do more to make cycling safe, drawing on the experience and expertise of Cycle Sheffield."
Litter Pickers
Sheffield Litter Pickers are volunteers enabling local people to keep their neighbourhoods litter free. Broomhill Community Library have committed to cover the Broomhill area (see launch event picture) but they need a lead volunteer to work with library volunteers and the S1 0 Litter Ambassador. A lead volunteer is also needed for the Broomhall group. If you're interested contact ghoulton4@gmail.com for more information about your postcode area.
Angela working in your area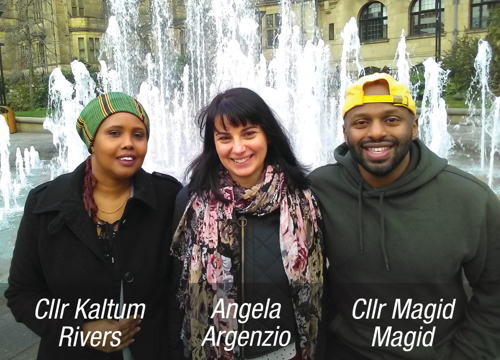 Angela Argenzio will be the Green candidate here in May council elections. Angela says: "I lived in Hunters Bar for 9 years with children attending Broomhall Children's Centre and King Edward School. I was a secondary school teacher for 1 6 years and now work for a Sheffield disability charity. I'm a trustee for a local human rights organisation and passionate about social justice and equality. I want to use my local knowledge and experience to offer support and improve people's lives across this diverse ward."
Knife crime & young people
Green councillors are encouraging the views and involvement of young people to address the underlying causes. Lord Mayor Cllr Magid, addressed 1 00 Young Peacemakers saying "You are amazing volunteers helping younger students resolve disputes at break times in ways that work for them. You make a real difference to your schools and communities". Read Cllr Rivers' Star Viewpoint on young people and knife crime.
People's vote on Brexit
Green MP Caroline Lucas, Green MEPs, party leaders and Sheffield Greens have been campaigning tirelessly for a People's Vote on any EU deal including a ballot paper option to remain in the EU. Caroline Lucas voted for the No Confidence motion on January 1 6 saying "The Prime Minister has failed to tackle any of the underlying injustices & inequalities that drove the Brexit vote."
Can we help you?
Cllr Kaltum Rivers
07776 1 60390
kaltum.rivers@councillor.sheffield.gov.uk
Cllr Magid Magid
0114 2735380
magid@sheffield.gov.uk
Angela Argenzio
07749 8371 80
angelargenzio1@gmail.com