There's been a surge in walking and cycling in the #pandemic. Government has promised extra billions. It's what @TheGreenParty has campaigned for, for many years. So how is it looking in #Sheffield?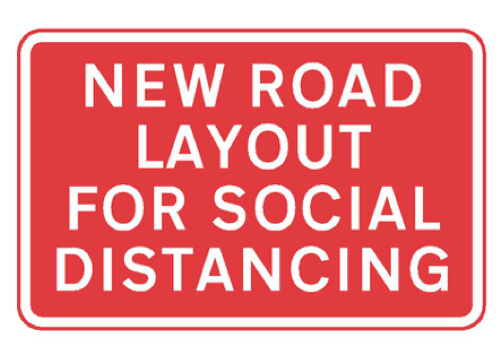 To set the scene … since the 1960s, Sheffield had been developed to encourage the private car. Politicians competed for the motorist's vote.
The £2 billion, 25-year #PFI contract with #Amey failed to enhance safe pedestrian crossings or walking routes, safe cycling facilities, safe dropped kerbs for wheelchair users, safe routes to school. It was a contract to keep roads just as they had been 25 years previously.
The Inner Ring Road widening was to get more cars into the city centre, driven by outdated economic ideas: growth = more cars. The Council admitted to @RuthMersereau it had not even looked at the business case for walking or cycling.
But in the coronavirus #lockdown, far fewer cars on the road meant those people not in work could get out on bikes and on foot for their daily exercise.  Cycling and walking took off, as air pollution from cars fell away.
Even the Government seems to have fallen behind the Green transport agenda: "making streets safe for walking and cycling is good for retailers, business and the economy," said Grant Shapps, announcing £2billion funding.
"The first stage, worth £250 million, is a series of swift, emergency interventions to make cycling and walking safer.

Pop-up bike lanes. Wider pavements. Cycle and bus-only streets. All examples of what people will start to see more of.

Accompanying the new money, we are today publishing fast-tracked statutory guidance, effective immediately, requiring councils in England to cater for significantly-increased numbers of cyclists and pedestrians, and making it easier for them to create safer streets."
(Source: https://www.gov.uk/government/speeches/transport-secretarys-statement-on-coronavirus-covid-19-9-may-2020)
Brilliant!  As a Green councillor in Sheffield, I have long campaigned for better walking and cycling facilities (along with #publictransport) so people can choose to leave their cars at home.
We campaigned for cleaner and safer streets. Every year, the Labour Council would vote against our budget proposals to promote cycling and walking, like £1 million extra for segregated cycle lanes.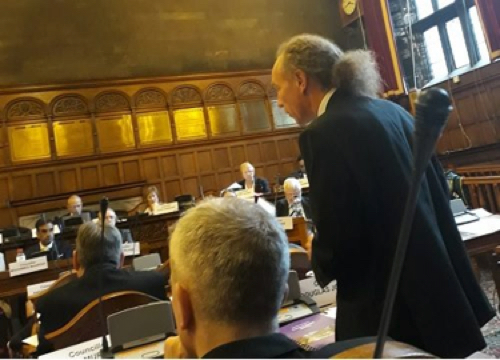 Even installing simple #bike stands became prohibitively expensive where Amey has first rights over any job. 4 stands in the Peace Gardens cost £905. But #Amey charges a whopping £4,687 for 4 stands on the public highway.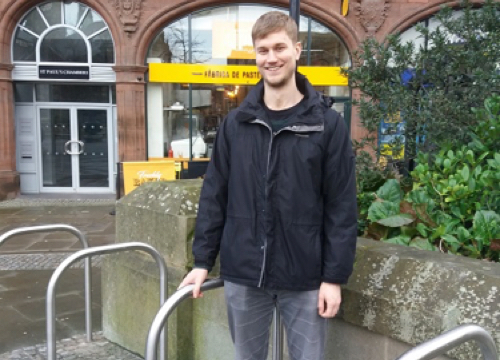 So what did Sheffield Council decide to do with all the extra money and encouragement and a public willing to take up the challenge?  Well, not a lot …
First, an explanation of how Sheffield Council makes decisions.  Basically, the council DOESN'T make decisions.  Under the "Strong Leader" model, all the decision-making powers are handed over to a single leader, who offers them around her chosen cabinet and officers.
The Strong Leader model means other #councillors don't get a say about most decisions and don't even get to know about them until they read about them in the @SheffieldStar.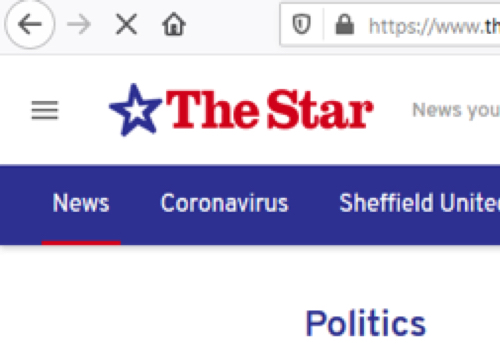 Under emergency powers, the Council Leader has extended her "scheme of delegation" and given all decision-making powers to officers.  Now every decision is considered to be "urgent" and this makes it exempt from any scrutiny process.

(Source: http://democracy.sheffield.gov.uk/ecSDDisplayClassic.aspx?NAME=SD1216&id=1216&sch=doc)
#CityWard councillors had a briefing with senior transport officers last Monday (11/5).  We were told that options were being worked up; they wanted quality schemes, not quick ones.  We awaited further developments.
We asked about a repeat of the successful trial closure of Division St in the city centre, like the one that Cycle Sheffield had initiated and which took place last October.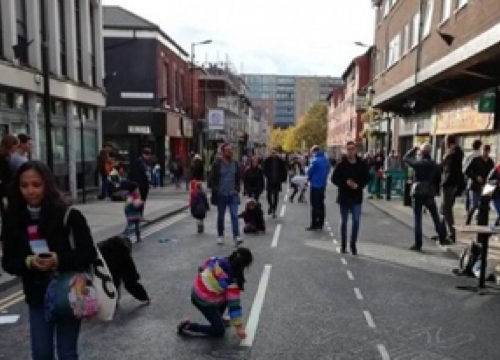 So it's with some surprise we see the Labour cabinet member "announcing" the council decision for lots of transport improvements the next morning on a #LabourParty Facebook account. No council publication; no formal decision published; no info for elected councillors.

The day after that, the Council's Comms team publishes a press release with the same claims. But there's still no recorded council decision. Who authorises this major new public spending?
Temporary footpath widening measures will start to be installed over the coming days in the following locations:

– Chesterfield Road – between Haughton Road and Asda/Iceland Service Road

– Rowlands Pharmacy – on Dykes Hall Road

– Lloyds Pharmacy – on Far Lane/Wadsley Lane

– Fulwood Road – on  Glossop Rd to Nile St. Broomhill centre

– Charles Street and Union St – from above Q-Park

– Five Weirs Walk – the diversion currently in place will be widened where the main footway is inaccessible due to construction work
(Source: https://sheffieldnewsroom.co.uk/news/pop-up-travel-measures/)
Let's go through these new locations in order. First up: #Woodseats … wait, what the hell is this?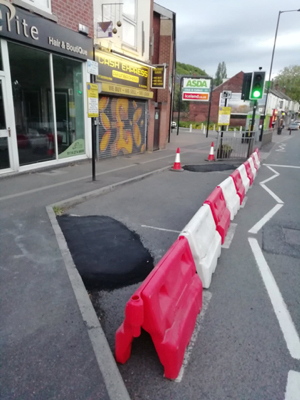 Seriously??? One single parking bay closed off outside a hairdresser that's shut in the #lockdown anyway? With 2 lumps of tarmac as a crude token to #wheelchair users.
What is the point? How does this help anyone?
Next one: Dykes Hall Road. Any idea what is going on here?  No, me neither. And if you thought you were going to push your pram down this new 25m stretch of road, the white barrier will soon put paid to that.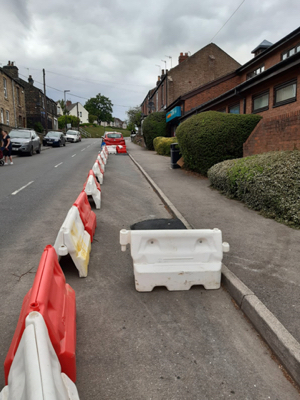 @RuthMersereau witnessed a Mum with a pram attempting to use it and the pram ended up getting a bump big enough to jolt the baby's bottle onto the ground.
Next… another pharmacy in Wadsley. Could almost be useful if it were connected to anything else. Pity the temporary dropped kerb is blocked by the sign heralding the parking restriction.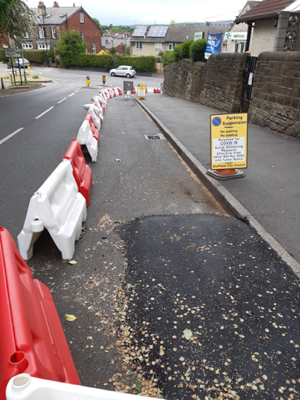 Next  … over to Broomhill shopping centre.  Absolutely no sign of any improvements there.
Back into town now, where high footfall can really be improved. But this collection of barriers on some double yellows outside the council office is more baffling than anything.  It might help staff walk from the side door to the main entrance … if the building were open.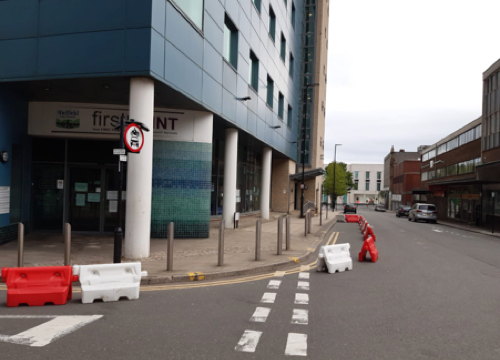 No sign of any real changes on the Five Weirs Walk, Shalesmoor roundabout or – the one we'd really like to see – the pedestrianisation of Division St.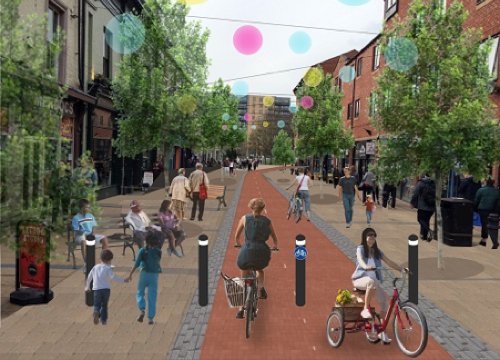 (credit @CycleSheffield)
What do we make of this?  A token effort?  A cheap publicity stunt?  A council with very limited vision?  Business as usual? Maybe all of the above.
We need a #vision for the future where city centres are easy, safe and pleasant to get about on foot, in #wheelchairs, with #prams and on #bikes bikes. Where streets aren't just used for car storage. Where people's well-being is prized above all else.