Support out NHS
Green Party members are working with Sheffield Save Our NHS (SSONHS) to try to stop the proposed closure of the Minor Injuries Unit (MIU) at the Hallamshire Hospital. If it closes, people might have to travel to the Northern General Hospital instead.
Local Green councillor Alison Teal said "We've collected lots of signatures locally for the SSONHS petition. We're calling on Sheffield's Labour-led Council to press much more strongly to save the MIU."
We've also tried to persuade the Council to revisit its decision to endorse the NHS Accountable Care Partnership (ACP) for this area; because ACPs are likely to lead to more healthcare reorganisation and possibly cuts and privatisation. However, the Labour members on the Council committee didn't support us.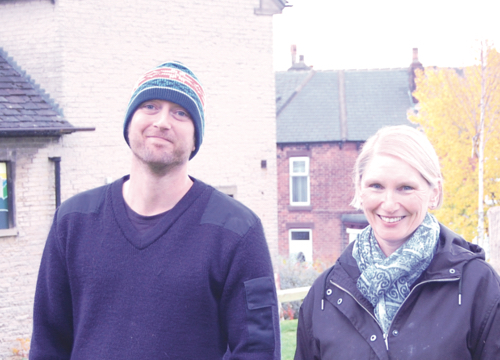 Improving our area
We recently worked with other people to help tidy the Common Ground community centre garden and building on Empire Rd. Alison Teal said "I'm delighted to see the centre improving. Many thanks to local residents taking part."
Tackling Antisocial Behaviour (ASB)
Local Green councillor Alison Teal has been working closely with other local bodies, including the Abbeydale stakeholders group, to tackle ASB in our area. For example, she supported action to prevent a repeat of previous problems on 5th November, and has been keeping an eye on places that were troublespots in recent years, eg in and near Mt Pleasant Park. We're delighted that there seem to have been positive signs of progress.
Road, pavements and street lights
On behalf of residents, Alison has been pressing the Council and their contractor Amey to sort out problems with the recent resurfacing, including some poor-quality work. She's also reported lighting problems, eg on Machon Bank and the alleyway between Sandford Grove and Edgmount Rds.
Alison's actions update
Helping local residents to improve the garden on Batt St, and taking part in a litter pick in Brincliffe Edge woods.
Talking with tenants of private flats in the London & Abbeydale Road areas about ways of improving the quality of their living accommodation.
Working with local residents to successfully oppose the building of new flats in St Barnabas to stop further overcrowding.
Celebrating the repair of the Mt Pleasant cricket nets, following her work with others to secure funding for this.
Following Alison's proposal and last summer's successful 'play streets' day which she helped to organise, the Council is now developing street play policies.
Alison and other Green councillors pressed the Council to protect council tenants by ending evictions for those who can't afford to pay their water rates on time. But Labour councillors voted against this.
Liaising with local residents and the Council to try to find ways of improving the derelict site at the bottom of Vincent Rd.
Help Alison's Re-election
If you'd like to help Alison to get re-elected in May 201 8 (eg by putting a poster in your window nearer the time, or sharing social media messages), please email netheredgesharrow@sheffieldgreenparty.org.uk.
Contact Nether Edge & Sharrow Greens
Cllr Alison Teal
07500 76541 9 or alison.teal@sheffield.gov.uk
Councillor surgery, 1 0.30-1 1 .30am on 3rd Saturday of each month, Highfield Library, S2 4NF