Sheffield Green councillors welcomed their national party leader to Sheffield for a VIP visit.
Carla Denyer, co-leader of the Green Party of England and Wales visited Sheffield on Friday 28th January to hear first-hand about the work of the 13 Green councillors who are part of the council's political Administration for the first time.
 After seeing the Grey to Green schemes, visiting the Unity Gym and spending time with Green Party activists, Carla said,
 "Sheffield's 13 Green Party councillors are working incredibly hard for the people of Sheffield; it was an honour to meet them.
 "In May 2021 they entered the council administration, in co-operation with the Labour group, and already they are achieving positive change for the city, such as the completion of the ground-breaking 'Grey to Green' project, replacing inner-city dual carriageway with walking and cycling infrastructure and beautiful new green spaces that help prevent flooding.
 In many ways Sheffield reminds me of my own home city of Bristol, where I am one of 24 Green Party councillors elected or re-elected last May.  It has a similarly friendly, welcoming feel, and an appetite for politicians not afraid to shake things up.  I am excited for the people of Sheffield because they have an opportunity to elect more Green councillors this May, to build a better future through transformative programmes of retrofitting housing, improving transport and scaling up the jobs and skills agenda."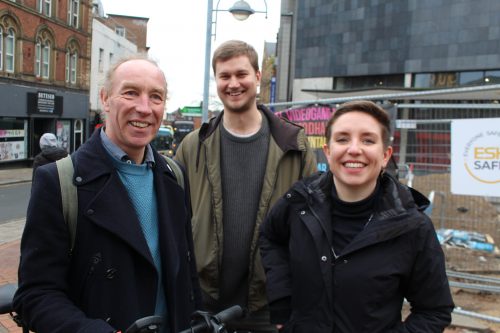 Leader of the Green Group, Cllr Douglas Johnson, added,
 "I am delighted to have welcomed Carla to Sheffield. Her work as a councillor in Bristol has been an inspiration to us, as she pioneered Europe's first Climate Emergency declaration, which has since been followed by over 400 councils in the UK including Sheffield."