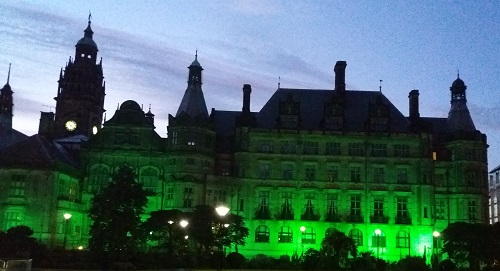 On the four-year anniversary of the Grenfell Tower fire, Sheffield Green Party calls for justice for those affected as the Town Hall is lit up in green to mark the anniversary.
Councillor Martin Phipps (City Ward) commented on the cladding scandal:
"It is completely unacceptable that, 4 years after the Grenfell tragedy, people have been left living with dangerous flammable cladding and other major fire safety defects.  This government has done nowhere near enough to support those affected.
"Residents in these buildings are blameless and should not be made to pay for developer cost-cutting and poor fire safety legislation.  Lax government regulation ultimately led to this situation and the government should be stepping in to make sure residents can live in safe buildings"
Sheffield Green Party has actively supported the Sheffield Cladding Action Group and have pushed for a resolution for people who are affected in Sheffield.  Sheffield Green Party also exposed the failings of the previous administration with regard to transparency over cladding contracts.  Phipps was positive about how Sheffield Council could now move forward to back those affected:
"In the new co-operative Sheffield council, we wanted to support the request from campaigners by lighting up the Town Hall and Winter Gardens in green in remembrance of those who lost their lives in the Grenfell tragedy, and in support of those affected by the building safety crisis, as other places will be across the country on the 4th anniversary of Grenfell.
"I was pleased to see cross party support of the Green amendment to the 'Demanding an end to the national cladding scandal' motion in March.  We supported the motion and wanted to see the council make sure developers planning to build in Sheffield are suitable, by asking the developers if their existing buildings still need fire safety work.  We also called for publicly available regular fire risk and safety assessments for buildings over 18m, in line with campaigners requests, and for the Council to help those affected get more support for their wellbeing."
ENDS
NOTES TO EDITORS
The full text of the Green amendment that passed (other than q) is below:
"DEMANDING AN END TO THE NATIONAL CLADDING SCANDAL"
Amendment to be moved by Councillor Martin Phipps, seconded by Councillor Kaltum Rivers
That the Motion now submitted be amended by:-
the addition of new paragraphs (e) and (f) as follows, and the re-lettering of original paragraphs (e) to (j) as new paragraphs (g) to (l);
(e) deeply regrets that, because of the cladding crisis, residents in the Wicker Riverside were evacuated during a pandemic, and just before Christmas, and that residents subsequently lived with the fear that they may be asked to evacuate their homes for months;
(f) welcomes the installation of the alarm to relieve the waking watch in Wicker Riverside, but believes that, even with the Wicker Riverside having received "emergency" funding for the alarm to be fitted from the Waking Watch Relief Fund, first announced in December, it took far too long to install, with tens of thousands of pounds for the cost of waking watches falling on residents and a real impact to their mental health and sense of security;
the addition of new paragraphs (m) to (r) as follows:-
(m) requests officers investigate how the Council can implement:-
(i) requiring freeholders of private or housing association residential blocks taller than eighteen metres in Sheffield to make publicly available periodic fire risk and safety assessments, with a recommendation that this duty does not lead to a disproportionate cost for leaseholders or tenants; and
(ii) querying developers submitting new planning applications of their suitability to build again in Sheffield, if any previous construction project of theirs is subject to unresolved cladding or other major fire safety issues like compartmentation;
(n) notes the results of the mental health study by Dr Martin of the UK Cladding Action Group of those affected by the cladding crisis where 9 in 10 people said their mental health had deteriorated as a direct result of the cladding situation;
(o) resolves to consider how the Council could enable access to additional mental health support for those affected by the fire safety crisis, consulting with mental health services (both VCSEs, SCC and NHS) and cladding groups for how this could be best provided;
(p) requests that officers report regularly to the relevant committee on the work to remove combustible cladding from residential properties, and address other serious fire safety issues like compartmentation, in Sheffield;
(q) resolves to learn the lessons of the perceived lack of communication and transparency with Hanover Tower residents that is believed to have led to tenants' losing trust;
(r) resolves to send this motion to all Sheffield MPs and ask that they support amendments to the Fire Safety Bill that seek to prevent the costs of fire safety issues falling on leaseholders, and ask them to ask others in their parties to do the same;
the re-lettering of original paragraph (k) as a new paragraph (s) and the addition of a new paragraph (t) as follows:-
(t) resolves to write to ask the Secretary of State for Housing, Communities and Local Government (MHCLG) to support the End Our Cladding Scandal campaign and publish a database of every affected building